Few things brighten the appearance of your home like clean windows
You will love the results.
What to expect?
Once you schedule an appointment with us our team will show up to your door on time and ready to go.  Our team is uniformed, insured, and well organized. Our trucks are lettered and clean.  The crew leaders carry iPads to document any concerns and also to make sure nothing is looked over.  We use the top of the line equipment, combined with traditional streak free squeegee methods, to provide you with the best clean possible.
The NEXT LEVEL Difference
Interested In a Quote? Fill Out the Form Below.
Service was outstanding. Your workers were polite, and on time, and did a good job. Before leaving they noticed our huge front window was not perfect, so they redid ity.
Judy Muchowski
16:57 22 May 20
Excellent service and great staff. Would definitely recommend Next Level to family and friends.
Dawn Sparreboom
14:09 21 May 20
Excellent work but I expected that....What I did not expect was the way they were sure not to invade our space. Even when inside the young lady quietly did her work. I usually dread having people in the house working, it seems so intrusive but we hardly noticed that they were there. We can see out our windows! Thanks - the Meulenbelds...Again this year, 2020 a bit more challenging with the screens, but we got it all done.....great job as usual!! The Meulenbelds
Ben Meulenbeld
17:12 13 May 20
Awesome company. Great service, very reasonably priced and very clean windows. I will always use them in the future.
Laura Elliott
22:40 12 May 20
Brandon,we are delighted with the window cleaning. Your team did an exceptional job on our windows - some are very high and it's too hard for us to contemplate tackling them ourselves. Our house will be listed tomorrow so the freshly cleaned windows will really show the view to its best advantage. I have no hesitation in recommending you to our friends.Many thanks again; your service, punctuality and communication is greatly appreciated. Not many companies deliver what they promise but Next Level definitely does.
Angela Betteridge
21:31 12 May 20
Great job and did not damage any screens!! Very thorough.
Franca Lunelli
17:49 07 May 20
Great Company! Brandon, Derek and Preston at Next Level are super helpful, easy to deal with and very flexible. Thanks to all you guys!
Jordan Sorley
03:46 21 Apr 20
My experience with Brandon at Next Level is one of a supplier rather than a customer, but it is clear that he runs a very professional business. His care and attention to detail on how his business is run is something to emulate!
Taylor Sellinger
02:43 21 Apr 20
Next Level did an excellent job!!! Exterior window washing was done so well, competitively priced, thorough and on time! I will continue to work with this company as needed!! Thank you again for the wonderful service!
Marissa Lindsay
02:46 18 Apr 20
Redently had the Next Level crew out for an exterior window cleaning and they did an excecllent job. I have used this company on previous occassions for both window and gutter cleaning. As has been the case before, the service this time was excellent and I can't recommend this company highly enough.
Chris Hives
16:21 15 Apr 20
A great service with professional, polite and efficient staff. They have helped us a few times and each visit was first class. Thanks.
john grain
20:14 25 Mar 20
Awesome service. Friendly, courteous staff. Owner is always checking in to make sure you are satisfied. Exterior of windows are sparkling clean.
sheilagh simes
16:34 25 Mar 20
Great service from Next Level. Did an excellent job cleaning the outside of the gutters and facia. Also did some hard to reach windows. Highly recommended.
Wayne Lyons
20:55 20 Mar 20
Extremely happy with my window cleaning service -- a great team all around!
Pam Schulz
04:02 04 Oct 19
If you are looking for window cleaning, look no further! Brandon and his team are professional, yet personable and they did a fantastic job on our windows, inside and out. I highly recommend them!
Laurie Koss
17:16 21 Sep 19
Next Level has cleaned our windows for years now. Outstanding work and the nicest guys ever. Very impressed!
Sherry Dahl
21:03 19 Sep 19
I had a soft-wash of my house, my gutters cleaned, and windows done inside and out. The attention to detail was fantastic! This was a great value!!!!
Gail Temple
23:17 30 Aug 19
The team was on time (a few minutes early actually!) They were friendly, efficient and very respectful of our space. The work is top notch. We had windows done inside & out and our gutters cleaned. Very affordable as well. I will be calling these guys again.
Toby Tannas
14:47 20 Jul 19
Excellent service, very professional staff and very considerate of their work area. Will definitely use again. Best of all our windows look amazing 😊
Teri Rebagliati
16:33 09 Jul 19
Vivian and Duncan did a wonderful job on my windows and screens. they were very friendly and professional. All in all a really great job. Thanks Next Level!
Alan Wokoeck
16:58 28 Jun 19
The 2 young men did an excellent job. Definitley recommend this company and will use them again !
Loretta Kives
17:20 22 May 19
Great service and an excellent job. Really friendly staff
wade steele
20:33 11 May 19
This is probably the most friendly company I have ever had the pleasure of working with - from their owners, office managers to the site team. They worked within our budget and did an amazing job! Could not be happier with their service.
We've used Next Level Window Ckeaning for 3 years now. They always do a great job & leave our windows & deck rails perfect. This year we added the house wash & our house looks brand new! I would highly recommend them.
Bonnie Jardine
20:57 24 Apr 19
Couple of hard working gents made our windows (and there's a lot of windows!!) look clean, crisp and clear!! We had a lot of pollen, construction sawdust and such and they made them all look like new. Highly recommend them!!5 Stars all the way!!
Your team was awesome and we are pleased. They did all that was promised and more. And gave us a discount we didn't even know about ($50 off in March) so it was even less expensive than I expected. Super Happy. And the team came early!
Jill Lemke
20:52 03 Apr 19
We had our windows and railing cleaned today. Amazing job!! Gary and Duncan were fabulous as in Brandon! I highly recommend these guys - will have them next year for sure!! Thank you 👍
Next Level did an amazing job on our windows! Highly recommend these gents.
Great service! Would highly recommend.
Donald Painchaud
17:56 20 Dec 18
These guys were professional from the get-go, great detailed quote and different level of service options, good discounts on combining services, and the crew did a great thorough job. Most importantly our newly renovated house was well taken care of with care to put down mats on hardwood under ladders, wipe up all water, remove paint overspray from windows, etc... No damge and great cleaning job thanks so much you will be my go to for house maintenance!
Outstanding job. The crew was on time, polite and very professional. I highly recommend this company and will be referring friends, family and my customers.Conrad- OK Deck Doctor
Conrad Loss-Wells
19:55 11 Dec 18
Very professional and accommodating. These guys were fantastic
Heather Mercer
17:54 01 Dec 18
Very reliable and professional service
yasmin grunwald
20:35 27 Nov 18
This is our first experience with a window cleaning company and wow did they do an amazing job! The owner came and did a site visit to quote on the small window cleaning project. He was professional and explained their service offering clearly. The crew that arrived a few days later was well presented and professional as well. They went above and beyond inside and out even though it wasn't a large job. We've never had such a good view out of our windows! Thanks to the team at Next Level!
Jamie Robertson
23:02 26 Nov 18
The guys were great, on time and very efficient ..Price was great.I will be using them again and would recommend to my neighbours and friends.Also great follow up with Brandon to make sure I was satisfied.
Tony Czink
15:51 17 Nov 18
Excellent service. Workers arrived on time, showed skill and flexibility, finished by checking with me about the job, and demonstrated a keen desire for customer satisfaction during their time at my house. I highly recommend Next Level Window Cleaning.
On time and professional throughout. I appreciated the friendly atmosphere and attention to the job. I do not have to look further for similar work!
Terry Spraggs
17:57 08 Nov 18
I just had my windows cleaned by Next Level! Excellent job and very professional attitude and performance. I will be using them in the future and my neighbors are already asking about their service.
Karen DeLuca
19:39 24 Oct 18
They arrived on time, great communication leading up to and after the job. It was seamless and easy to book the estimate and the work itself. The crew that showed up were uniformed and very professional. The pricing I felt was reasonable. Most importantly though...my windows are spotless! I'm very happy with it and I will definitely work booking again for spring.
Travel Agent
19:35 24 Oct 18
On time, polite, organized, very professional.Have used Next Level several times. Highly recommend them!
Sandy Redman
18:59 24 Oct 18
Kerri Lougheed
23:36 10 Oct 18
Very professional and completed the job well on time and for the amount quoted. Their communication was fast and accurate and a pleasure to deal with. We have no hesitation in recommending them.
Lynne Cameron
00:58 06 Oct 18
Great service. Friendly and professional technicians!
Jaime Briggs
17:08 28 Sep 18
Fast quote and now my windows look great.
Nancy Denomme
14:53 28 Sep 18
I chose this company as a result of the Google reviews I'd read and am happy to report they were very accurate. The quote system was beyond complete and easy to use and approve. They were prompt, professional and Thomas and Tristen cleaned our windows to flawless perfection. Definitely recommend this company.
Randy Jones
20:50 27 Sep 18
Contracted Next Level to clean my eaves-troughs as they had never been done. The team were punctual, professional and courteous upon arrival. They went right to work, no lag time and completed the task in the time frame allotted. There was no mess or debris left, the eaves were clean and pristine. I would definitely recommend this company and rate them at 5 star.Terry
Terry Shuttleworth
16:13 27 Sep 18
Next Level was super quick and easy to work with. Little bit of a delay on the initial quotes, but they were great for following up and when they got there to do the job, they were polite, timely and easy to have around. Thanks so much for a job well done!!!!
Justina LeeStolz
20:11 26 Sep 18
Very happy with the Next Level window cleaning! Great communication and windows came out beautifully. Thomas was meticulous with the work both inside and out. Job well done.
Michelle Fleming
15:06 19 Sep 18
Very happy with the results. The team that came to our home was efficient and extremely Respectfully. We will be using them again.
Faithe Picault
20:38 10 Sep 18
very professional and thorough in doing a good job.....would recommend
Craig and Ruth Johnson
23:38 07 Sep 18
Brandon and his team always do an excellent job on cleaning our windows. They are very meticulous! I have hired other window wash companies in the past but Next Level Window Cleaning is offering the best services! And with their email confirmations etc. you're always well informed about when the next visit is scheduled.
Carola Jaspers
23:05 15 Aug 18
Shane Jamieson
17:42 11 Aug 18
Highly efficient, very clean, very friendly, courteous. Our first experience with window cleaning and we will definitely repeat. Highly recommended.
Walli Janzen
20:11 13 Jul 18
The team from Next Level was totally professional, quick to get the job done, and the quality of the work completed was 100% Really appreciated the whole process from Quote to Completion.Thanks Next Level!!
Kevin Hansen
21:01 02 Jul 18
I cannot even begin to explain how awesome Brandon and his team were when I was dealing with them. Fast, reliable, and the job was done perfect. best in town.
Darren Wilson
18:46 22 Jun 18
Every year I count on this company, sometimes for multiple properties and am never disappointed. No job too small. They always send polite hard workers who know their business and arrive on schedule.
Brenda Bachmann
16:54 22 Jun 18
Great work, great service and courteous ....fantastic follow up, what more could you want.! Thanks Brandon and team!
Mary Broadland
15:37 13 Jun 18
From start to finish, Brandon and his team were a joy to deal with. Not only did they do a stellar job, everyone was friendly, easy to deal with and quick to respond to messages. I highly recommend NEXT LEVEL Window Cleaning!
Vincent Jones
00:07 08 Jun 18
Next Level has been doing the windows, building pressure washing and gutter cleaning of the facility where I work for the last few years. They are awesome to work with. Good prices and great service. Highly recommend! Thanks guys!
Next Level Window Cleaning was very professional and did an amazing job on our windows and screens. They were able to schedule us in a on short notice, came to the appointment on time, and sent reminders in the days leading up to our appointment which I appreciate. We will continue to use Next Level for our window cleaning needs.
Kara James
17:54 24 May 18
You will not find a better window cleaning team ever! Our windows sparkle like they are brand new!! Thank you Next Level and we will see you again in the fall!!
Finex Mortgage Administration
16:04 17 May 18
The team at Next Level was amazing!!! Big shout out to Brandon and his team, they did an amazing job and my house shines again. Amazing what a clean window does to your house. Thanks guys, highly recommend them for anyone needing a window clean or a house shine.
Chad Weninger
16:28 14 May 18
Next Level Window Cleaning not only left my windows sparkling clean they also did a great job on cleaning my gutters and downspouts. They showed up on time, we're professional and left my house in great shape.
Pamela Glendinning
20:29 10 May 18
The gentlemen that cleaned my windows inside & out yesterday were professional, friendly & exceptional workers. There is not one streak on any of my windows. The attention to detail was refreshing to see. I highly recommend Next Level window cleaning!
Marnie Mckay
22:17 05 May 18
The service we received from Next Level Window Cleaning was very professional, courteous & thorough from the time we were quoted through to 'window cleaning day'. I now enjoy looking out my streak free windows thanks to the cleaners who were very friendly, meticulous and quick. I would highly recommend Next Level Window Cleaning for anyone wanting an exceptional window cleaning experience.
Sherry Beatty
17:27 04 May 18
Next Level Window cleaning is an awesome company to work with, their staff are professional and really great to work with.
Linda Edgecombe
18:01 03 May 18
This company was on time, professional and very friendly. They did a fantastic job. They are easy to deal with and clear with regards to rates and quotes. I will use them again and highly recommend their service. The did a full house and window clean for me - 10 out of 10!
Well you will not find any bad reviews here about Next Level and this will be another recommending their services. We received a quote one day and they were out the next. Ryan and Kristen I believe we're both so polite and accomadating. They worked quickly and efficiently. Brandon's quote as right on and reasonable. The work fantastic. This is a very well run operation with a very good team. I'll be back for certain.
The Aussie and the Britt did an amazing job on my windows. Thanks!
Rhonda Klassen
18:20 19 Apr 18
Next Level Window cleaning has just finished my entire house, and I am THRILLED with my windows. The crew arrived on time, were respectful and their attention to detail is great. I will have them back again, and would highly recommend to anyone.
Olivia Walsh
19:20 06 Apr 18
Thanks for the great service. Very friendly and professional. No more cloudy in Kelowna since my windows are so nice and clean. Again a nice big thank you.
Marilyn Eyres
23:36 28 Mar 18
Great and super friendly service, quick response back on inquiries! Highly recommendable!
Excellent service, Great pricing, Couldn't be more thrilled with our very clean windows! thank you Next Level!
Excellent service ,the best value for your money in Okanagan I will book spring service now !
Slavo Grunwald
19:16 28 Nov 17
Next Level has done both our windows and gutters this year and last - always great service and communication, friendly, on time and does a fantastic job.
Karen Gentleman
12:34 24 Nov 17
Very professional, very polite workers and respect your property inside and out. It has been a week since my windows were done - inside, outside and screens. I am very particular and expressed that to the company and they assured me top quality work. During the week following I looked every which way I could thru the windows with sun coming through and no sun thinking I would find some flaw but absolutely nothing. I would highly recommend this company and will definitely have them back. Thankyou Next Level!!
Betty Ann Richard
19:16 05 Nov 17
Great customer service, with very friendly workers! 10/10 would hire again!
Admin CsekCreative
17:18 03 Nov 17
Their crews are clean cut and very professional!!
Thanks to Next Level Window Cleaning! Our windows and screens in our home and office our now clean from the soot of the fires this past summer! Be calling them again this spring.
Vision Mechanical LTD
16:33 02 Nov 17
Jonathan Dean Urness
04:35 30 Oct 17
We have had 2 visits this year from Next Level to clean our exterior windows. We are extremely pleased with their professional service. They arrived within the timeline given, were very polite and pleasant to deal with and demonstrated diligence, respect and care around our property while performing their work. We appreciated receiving a notice regarding fall services and definitely intend to call them again in the spring. They deserve our highest rating. Thanks again.
Helen Gordon
20:09 22 Oct 17
Everything about this company is expert and professional. They call back right away and follow up as promised. The two young men working in my home were polite, did not leave any mess and did an excellent job of the windows. I recommend them to anyone I know who is looking for a really good window cleaning company.
Next Level Window Cleaning on a one to five scale makes a five plus !Brandon did exactly what I had hoped for, but seldom got, that being to get my windows cleaned perfectly. I'd not hesitate to use his services again, and have already recommended him to friends. Fantastic job, on time, and done perfectly !
I am extremely happy with my clean windows! Thank you to the Next Level team. It was done quickly and thoroughly. I will be using their services again.
Brigitte Diemand
00:22 14 Oct 17
Brandon and his crew are exceptional!! I felt bad as the windows were so disgusting!! They got them so clean they sparkled, I was sitting by one of our windows after and it was getting warm and I thought window was open but no! It was so clean it looked like it was open amazing!! They are kind, courteous and very professional! I highly recommend them!! Thanks guys!!
Colleen Noseworthy
16:21 29 Sep 17
Next Level window cleaning did a great job on our house, we'd happily recommend them :)
Chris Onyett
16:03 07 Sep 17
This week, Brandon and his crew cleaned all the windows in my home, inside and out. They washed all the screens with soap and water and cleaned the sills of windows and sliding glass doors. From the beginning this was a positive experience. I was given an accurate estimate, there were emails to confirm every detail in advance and when the job prior to mine took a little longer I got a call to explain. In spite of dizzying heights and many many big windows, the guys were unfailingly cheerful, polite and focused on doing a fabulous job. I am so grateful to have found a company so trustworthy, efficient and priced fairly. I recommend Next Level Window Cleaning without any hesitation. Thank you Brandon and crew!
mickey patryluk
04:02 12 Aug 17
I found Next Level Windows excellent to work with. They put us in last moment as they were working next door. Ryan did not rush his work and did a perfect job. Couldn't ask for better and would highly recommend them. I'll be calling them for my windows next year.
Margot & Bill Carlyle
18:18 29 Jul 17
Brandon and his team did a wonderful job cleaning the windows in my home in West Kelowna. They took the time to go back and check areas they had already cleaned to make sure they hadn't missed any bits. I will definitely be using their services again.
Maryanne Williams
16:24 26 Jul 17
Excellent, quick service. Fast estimate, fast work. Reasonable price. Friendly workers.
We had our windows done yesterday - nice professional job, no mess, no fuss, quick, quiet and well done. I'm definitely recommending Brandon and his men. Thank you
Anya LeBeau
20:19 08 Jul 17
They showed up on time and worked extremely quickly and efficiently. They were able to do my house in 2 hours and all the windows look terrific. I would recommend this company and will probably have them back.
Kristian Markstrom
16:07 30 Jun 17
Excellent job. Brandon was very pleasant and did a thorough job. Recommend him.
Prompt, efficient, on-budget, and convenient - top notch!
Joel Gregg
21:15 13 Jun 17
Excellent, professional, efficient! The best kind of service! I never have to worry about the cleaners in my home. Very trustworthy and clean as they move through the inside of my house! The best window cleaners in Kelowna!
Earlier this month I watch a crew from Next Level clean some office windows in town while I was waiting in my car for my husband. This crew was very meticulous, doing a great job and then going over their work checking it before leaving. I was impressed that they drove a clean well cared for company van, my first impression was this company had pride in their work and their property. I looked up the company on their website again I was impressed with this company, I then phoned for a quote. Brandon returned my call, came out next day to give me a quote. The crew that came to my home was very accommodating, they followed my request to do certain windows first. We had them clean our eave troughs as well as windows inside and outside. We are very happy with their work, the crew were polite and moved through the house quietly and quickly. Brandon has a very good personality, he is polite, respectful and knows his business! The young boys on the crew we had came clean, and neatly dressed. They also had great personalities, they were polite and careful while removing screens and working around our furniture. We will recommend Next Level to our friends and family. Their phone number is saved in my address book for the next time I want work done.Thank You Brandon and your crew! D. Naka
iamnananaka
16:32 27 May 17
Best service ever!!, on time, exactly the price they budgeted, and most important, they did an incredible job!!, very professionals.
Jose Ramon Urbez Torres
17:34 26 May 17
I had tenants in my house for years and I don't think the windows had been cleaned for at least 5 years. They had cobwebs in the corners and lime stains throughout. I was really impressed with the cleaning service from Next Level, the windows look fantastic. I didn't think they would look that good again.
Jane Muskens
15:42 19 May 17
Definitely the "next level" in window cleaning! Prompt, professional customer service; competitive rates and sparkling windows. I recommend Next Level.
Karen Cairns
16:59 13 May 17
Fantastic, dedicated professionals. Brandon is fast and respectful. We are always so impressed with the windows when they are done!
Best company ever to do window and deck rail cleaning.
Dawn Coupland
00:10 06 May 17
An awesome job on my windows! Will definitely have you back...thanks
Debra Stranaghan
13:57 03 May 17
Next Level Window Cleaning did a fantastic job on our house windows. He was on time and professional in all our communications. None of my plants were damaged around the exterior when he used his ladder. I would highly recommend Brandon and his team.
Shannon Kwasnycia
01:51 01 May 17
Very good service and nice friendly people. Would recommend them definitely.
Lisa Aschenbrenner
04:43 20 Apr 17
We use Brandon whenever we need our windows cleaned. We just had the 'Platinum' service and I have to say it was fantastic. Brandon is so courteous, friendly and provided high-quality service. Our windows look amazing and the each window sill looks brand new! Great service all round. Highly recommend Brandon and his team.
Just had my windows cleaned and I am very satisfied with the results. Brandon and the team were very friendly and easy to talk to. It shows that he enjoys his work and is proud of it.
Professional, organized and did a fabulous job on my windows and deck glass. I will definitely be using them again!
Raquel Millikin
05:29 05 Jan 17
Great service and excellent quality. Highly recommend.
Shaun Calderwood
03:57 24 Nov 16
Next Level has been doing our facility's power washing, window washing and gutter cleaning for a couple years now and they have been great to work with. They are friendly, on-time and efficient. Also, I find their prices to be fair and reasonable. Thank you for all the hard work!
Awesome job. Windows look like they are not even there. Friendly and accommating. Will see you in the spring!
Lorna Brewer
16:25 30 Oct 16
Very friendly and professional. Good prices. Great service. Highly recommended!
Jonathan Matlock
16:33 26 Oct 16
Our view has never been better!! Great pricing, quality service and friendly people!!!
Valerie Jean
18:15 22 Oct 16
This is the second time that Next Level has done our windows and now also our gutters. The attention to detail and the quality of work was excellent. I also respect that you guys were on time so we did not have to wait around all day. Thank you and see you next year.
Huck Parfeniuk
18:17 03 Sep 16
Brendon's guys just cleaned our windows, and they are now sparkling clean. What nice, hard working guys. We will definitely recommend their service, and use them again in the future. THANKS GUYS!!
I have used many window cleaners over the years. None compare to Brandon. Top Notch! I highly recommend his company.
Brandon and his Crew are very professional, they come into your home, do their work, and when they leave the only way you would know they've been there is the SHINY WINDOWS left behind!!
Joy Zsombor
15:32 03 Aug 16
Choose this company. Brandon and his team are the best in the business.
Alex Dumas
22:01 05 Jul 16
I"m a huge fan of Brandon...and I appreciate the hard work and excellent results after he and his team have been to my home. "Next Level'....is the best home improvement and window cleaning company in Kelowna!!
Excellent Job. Brandon and his team did such a good job that 3 days after our windows were cleaned one of our guests walked right into the patio door as she thought it was open it was so clean.Brandon also cleaned our windows post-construction, which is something that others tried, but failed at.I highly recommend NextLevel.
Cristi Dan
22:19 31 May 16
Always professional, meticulous and on time!Great work with an even better attention to detail!Highly recommended!
Terry Gibbon
14:57 26 May 16
This is the second year that Next Level has cleaned my windows and gutters. The crew was on time, friendly, and did a fantastic job. I would recommend them.
Alan O'Brien
20:41 19 May 16
Amazing... super efficient, job well done. Really dedicated hard workers. Clean cut and very honest. Good company to deal with.
Brandon and his team were great! Our old moldy looking Gutters were cleaned and whitened to look like new! They are honest, and worked all day to get the job done without feeling like they were trying rush to the next job! I will be using their service from now and referring everyone we know. Thanks guys and great work! Ray from Lower Missions
Robust Demo
20:09 12 Nov 15
Brandon does a high quality professional job for a fair price. Always wipes down the sills and frames. Have recommended to friends as I'm confident they will be happy with his service which they always are! Two words - Highly Recommended
Rylee Pack
15:47 22 Oct 15
Brandon cleaned and fixed our gutters. He was diligent in fitting us into his schedule and provided quick, reliable, and affordable service. We would have paid double what he charged. Will use this company again!
Thanks Toby and Luke for doing a great job cleaning our windows! We just bought our new home and the windows really needed cleaning. The guys took extra care to do a good and careful job. Much appreciated - thanks for brightening our view! Would definitely use this company again.
Next Level does an exceptionally good job. They even cleaned our skylight!
Fantastic service, great communication before the windows became sparkling once again....Would not hesitate to recommend Brandon and his team
sal hayward
02:39 14 Jun 14
Most impressed! Nothing but 'top shelf ' professionalism at every level with this company. I recommend you give them a try, you won't be disappointed you did.
Debra Parks
14:22 19 Apr 14
I found Brandon through his website - which is very professional. We need our gutters cleaning and he did a very thorough job. He took his time to make sure everything was cleaned correctly and didn't rush through it. He even fixed one of the gutters! He has a very professional and courteous manner as well. I have already asked him to come back in the Spring to clean our windows. I highly recommend his services.
Anne-Marie Freeman
02:36 15 Nov 13
Brandon was very professional and personable. I felt very comfortable having him in my home to complete the inside/exterior window cleaning. He arrived on time for both the quote and the job and our windows sparkled when he was done. We will be using NEXT LEVEL annually and would not hesitate to refer services to friends and family.
Kathryn Hall
03:40 05 Nov 13
Brandon has great customer service skills, he's very personable and professional. The workmanship and service were top notch; you won't be disappointed by hiring Next Level window cleaning to work at your house.
Brandon has done an excellent job on our windows. He is very reliable, professional & courteous. We have referred Brandon to our friends & they too, have been very pleased with his service !Beverly & Rusty Bracken
Beverly Bracken
16:01 09 Oct 13
We have been a customer of Next Level for the past year and have nothing but great things to say. Very professional, always do a great job at a fair price.
Lynn Burkart
04:45 07 Oct 13
Brandon was very punctual in his communication, professional in all aspects, and did a great job of cleaning our windows. They were sparkling !
Debra Stuart
02:10 01 Oct 13
I first called Brandon a couple of years ago, to have our windows cleaned on the home we are currently living in, he presented himself very professionally and did a great job. We were so happy with his work that we have used his services through our business, Hansum Homes, when we have a home that is ready to turn over to our clients. I have recommended Brandon to friends and clients alike. If you are looking for a great window cleaning service, we highly recommend Brandon at Next Level Window Cleaning.
Fran Hansum
21:28 24 Sep 13
We recently had our windows cleaned by NEXT LEVEL Window Cleaning and were most pleased. Brandon and his fellow worker were very personable and professional. They arrived promptly as arranged and did an excellent job of cleaning all our windows, both inside and out. We have a two story house, with roof windows, and they were able to expertly clean them in good time. My husband and I would definitely recommend Brandon Gawdun and his company.
Colleen Crossfield
19:33 23 Sep 13
Brandon did a excellent job on the post-construction job i hired him to do. He was able to schedule the work last minute and was there on time. My client were very satisfied with his work.
Alexi Paquet
17:27 23 Sep 13
Very reliable - arrived when he said he would. Professional and excellent work! Would definitely recommend Brandon to anyone needing their windows or gutters done.
Super quick, but high quality job. Very professional. Will continue to use them for all my buildings.
Mark Sutherland
17:09 20 Sep 13
Brandon and his helper did an absolutely fantastic job on our windows! We appreciated that they took care while doing our inside windows as well, making sure nothing was bumped and asked permission before moving some more delicate items. Highly Recommended!!!
Geordie Carswell
21:51 19 Sep 13
Commercial and Strata Window Cleaning 
We have invested in the proper equipment and training to get the job done safely and efficiently 
Do you have a downtown office that needs our services?  Or perhaps you are a property manager or on the strata council and haven't been happy with the previous cleaners?  Lets be honest, if something goes wrong its not us who get the initial feedback it's you isn't it.  (I know because I personally live in a condo and everytime we get our building serviced it can be a nightmare for our strata to make everyone happy) You know more than anyone that trying to keep everyone organized and happy is an around the clock job with often little appreciation or cooperation.  Our job is to make yours easier.  Specializing in residential window cleaning gives us an advantage when dealing with big strata townhouse projects or retirement homes and condos.  For the most part we know what people want.  We instill confidence in the little old lady who is stressed that we might miss one of her windows and sits around all day waiting for us to clean it.  Our professional uniforms and clean cut team never make anyone feel nervous or uneasy about us walking on their property.  One of our main company principles is integrity before profit, and with big projects quality can often be overlooked or "Swept under the rug" so to speak.  Not with us.  Our honest technicians will note any concerns with your property and send a report to the council after completing a job.  Were in this for the long term and constantly looking at ways to meet your needs better, help you stay on budget and keep everyone fed and looked after.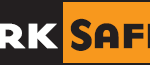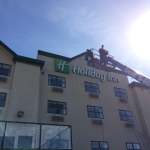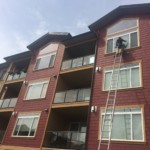 Regular Monthly or Weekly Storefront and Restaurant Window Cleaning
Automate Your Window Cleaning
Does your business or restaurant get a lot of foot traffic everyday?  Is it embarrassing when the sun comes out and hits the windows in that "Oh so not perfect light"?  As a manager or team member to a company you have a lot on your plate already and sometimes delegating the window cleaning to a lower paid employee can turn out to be a waste of resources and end up looking worse then it started.  Thats where we come in.  We automate your window cleaning for you.  We make it easy for you and for the price we charge we guarantee that it would take you at a minimum 5 times as long to get the same results.  Next Level Window Cleaning services a commercial route each month and some weekly and biweekly commercial accounts.  This service is fast and efficient and leaves your business to stand out with the added curb appeal.  We usually try to do this work early in the morning so that we don't disturb your clients from engaging with your business.  A regular maintenance program in the long run will not only save you money but make you money.  Keep your brand shining bright and have peace of mind knowing the job will now be automated.  Included with every monthly or weekly account is a complimentary frame wipe of all frames and doors on your business to leave it shining bright!
Post Construction Window Cleaning 
Patient, Positive, Easy to Work Around.  Everything You Want On Your Jobsite.
Need some positive people on your job site?  Tired of people blaming others for lack of follow through?  Getting everything done on time and in order is a lot easier said then done.  A lot of trades make promises to finish at a certain date but there are often many surprises that arise.  We realize that patience, communication, and good organization are traits that are necessary in the building space.  We know that not everything goes as planned and that sometimes the date can be pushed back or even moved forward sometimes.  Next Level Window Cleaning is willing to work with you in a patient and respectful manner to help you get all those projects taken care of.  We take ownership and complete responsibility of our work.  Post Construction window cleaning comes with the greatest risk and should be left to highly experience window cleaners only.  Stucco, concrete, sillicon, and paint overspray can make it tricky and also put you at a high risk for scratched glass if the cleaner doesn't know what he's doing.  We are very careful not to use razor blades on tempered glass.  Tempered glass (such as patio doors, railing glass) can be left with a fabricating debree on the glass at the time of its manufacturing.  Razor blades used on this type of glass can break off the fabricating debree under the blade and cause scratches to the glass.  Knowing this, Next Level Window Cleaning works with concrete dissolvers and special products that can remove the construction debris from the windows, "Blade free".  We work with many builders in Kelowna and do our best to provide them with the most prompt and professional service.  In fact we have such good relationships with our builders that rarely do any of them even ask us for a quote anymore as they are confident we will take the best care of them for a fair rate.  
Have a Question?  Call Us! 250.826.4843