Few things brighten the appearance of your home like clean windows
You will love the results.
What to expect?
Once you schedule an appointment with us our team will show up to your door on time and ready to go.  Our team is uniformed, insured, and well organized. Our trucks are lettered and clean.  The crew leaders carry iPads to document any concerns and also to make sure nothing is looked over.  We use the top of the line equipment, combined with traditional streak free squeegee methods, to provide you with the best clean possible.
Interested In a Quote? Fill Out the Form Below.
Mike was excellent at communicating and the crew did a great job
This company was on time, professional and very friendly. They did a fantastic job. They are easy to deal with and clear with regards to rates and quotes. I will use them again and highly recommend their service. The did a gutter clean for me - 10 out of 10!
Great service all around! Not only did a great job cleaning the gutters but great communication before and after the service. Would use again and recommend.
Patti Skogg
21:37 26 Nov 22
Tomorrow's service at yesterday's prices. Courteous and professional. I would use them again.
jeff labute
04:13 26 Nov 22
Matt and Cam were great in answering all my questions when on-site, advising on gutter defects, and tidying the site. Professional and helpful!
Excellent service, very professional & courteous. Repeat customer
hans neumann
19:48 16 Nov 22
First of all, really appreciate hearing back from Next Level when I requested a quote, unlike the other company I contacted. They were very responsive, providing a timely professional quote that was easy to read through and choose the services we wanted.On the scheduled day they showed up on time, offered a friendly greeting and explanation of what was going to be done. After the work was performed we discussed the work performed and they offered a chance for questions/comments. Best of all our windows and deck glass look fantastic! Thank you Next Level!!
Sandi Kneller
17:19 07 Nov 22
Live Next Level performed exterior window and glass railing cleaning for me. Responsive in email and phone call follow up. Booked an appointment quickly and there were reminder notices sent within days of the cleaning. Very pleasant gentlemen and they made quick work of our windows, doing an outstanding job of getting rid of stinkbug feces. We have a lot of large windows, and they completed the work in the morning. One item noticed was the mud from their shoes on our upper deck, but once this was brought to their attention, it was cleaned and remedied to my satisfaction. Highly recommend and will call them again in the spring, for an interior and exterior clean
Joanne McCormick
20:42 05 Nov 22
Thank you to everyone on the Live Next Level team who helped us with our gutter cleaning and window washing!! Fast and efficient service. Thank you!
Rhonda Nelson
18:03 03 Nov 22
Duncan and his crew did a fabulous job . They were punctual and extremely professional and polite . I would definitely recommend Next Level Window cleaning !!
Kim O'Brien
20:48 31 Oct 22
charlotte jones
19:51 25 Oct 22
Second time I have used their services. They did a great job and I will continue to use their services!
Betty Engemoen
18:09 22 Oct 22
The staff did wonderful and thorough work cleaning our exterior windows and frames. Professional, personable and complete work, well done!
Donna Poupart
20:22 20 Oct 22
The guys were very quick, and did a great job especially cleaning those high windows and glass upper patio .
Bessy Honish
16:09 20 Oct 22
Excellent service & price. I highly recommend this company!
I was very happy with the job. Would defiantly recommend them
shannon hawes
16:38 19 Oct 22
August, 2021. Excellent work but I expected that.... Brandon was sure not to invade our space. Even when inside he quietly worked with a mask.. I usually dread having people in the house working, it seems so intrusive but we hardly noticed that he was there. We can see out our windows! Thanks for another great job ...... the Meulenbelds...Again this year, 2020 a bit more challenging with the screens, but we got it all done.....great job as usual!! The MeulenbeldsLooks like Next Level is keeping up the good work. Again, 2021 a great job of cleaning our windows and screens. The guys worked quietly, quickly and efficiently. Five stars......October 2022. Windows, screens, gutters. Jason was on his own but handled the work with efficiency and expertise. Great job! .....the Meulenbelds
Ben Meulenbeld
00:16 15 Oct 22
Efficient, professional, clean. did a nice job
James Huber
15:52 13 Oct 22
Always very quick to respond to any inquiries; teams are very friendly & professional to deal with. They do a great job for a fair price, and I definitely wouldn't hesitate to recommend Next Level!
Dave Bazett
06:24 12 Oct 22
First and only window cleaning company out of all the ones we call to call back promptly. Follow up and get the contract on the professionalism alone. Most other companies didnt call back and the ones that did just didn't care!
Bryan Matthews
02:49 12 Oct 22
Very friendly, did the job perfectly. Let me know what the issues were and remedied them. I would highly recommend them and will be using them again.
Very impressed with the window washing/cleaning/screen cleaning that Michael and Tristan did. We will definitely be using them again in the spring.
I reached out to Duncan and his team to have our exterior windows cleaned. They showed up on time, very friendly and professional. I will be using them again with no hesitation. Very highly recommended. Great Value and a even better finished product
Brent Swanson
18:07 04 Oct 22
Next Level did a great job and I would recommend them to anyone looking for gutter cleaning or moss removal.
Phil Penneway
17:32 04 Oct 22
Brandon and his Crew are very professional, they come into your home, do their work, and when they leave the only way you would know they've been there is the SHINY WINDOWS left behind!!
Joy Zsombor
13:56 04 Oct 22
Friendly crew did a fabulous job. I would definitely recommend this company
Absolutely love this company. The staff were so friendly. I would recommend this service to anyone and I will definitely use them again. Thank you! My windows have never looked better!!
Jenna Race
03:51 30 Sep 22
Excellent service and great staff. Would definitely recommend Next Level to family and friends.
Miriam Sparreboom
12:59 29 Sep 22
Awesome job and on time and very professional. Highly recommend them for all your cleaning needs.
Cindy Macaulay
01:16 26 Sep 22
They did a great job, will be calling them back in the spring!
Jennifer Schmidt
16:29 22 Sep 22
I just had my gutters cleaned using Next Level. Right from my initial request for quote to the job being completed was a very positive experience. I highly recommend them!
Doug Glada
19:12 19 Sep 22
Excellent attention to detail. Showed up as promised , in uniform with a very pleasant attitude. Also, careful not to mske a mess inside the house. Will now be a regular customer.
Kenneth Acton
18:36 16 Sep 22
Came home to wonderfully clean windows! Next Level was quick to respond when I enquired about their services and they were here a few days later. I would highly recommend.
Lionel and Lynn Bateman
01:09 16 Sep 22
My windows and gutters look sooo much better! Great professional work and excellent price! Highly recommend them to anyone!
Kelley McRae
17:05 13 Sep 22
From Logan's prompt response to my quote request, to day of service with Jake and Tash, LNL were all professional, genuinely cared about doing a good job and providing great customer service. I highly recommend them.
Jesse Pickard
17:08 30 Aug 22
Excellent and professional workmanship. On Time, fast and efficient. Would highly recommend Next Level Window Cleaning.
Gary Logan
16:35 23 Aug 22
Sam and Cameron did a fabulous job. Very professional website. Respectful, hard working staff. I highly recommend!
Carol Negraeff
08:14 22 Aug 22
An hour early and contacted us to let us know. Great job. Pro, personable and proficient.
Cathy Bubb
16:59 17 Aug 22
Good communication- window cleaner was fast and efficient. He explained the system they use to clean the windows. Would highly recommend this company.
Trish Kroschinsky
15:30 17 Aug 22
Associate was very professional and very polite.
Marla Trerice
21:57 15 Aug 22
I would highly recommend next levelThey arrived on time and did a great job on our windowsI will be using them in the near future
Bernice Carlson
19:41 14 Aug 22
Commercial and Strata Window Cleaning 
We have invested in the proper equipment and training to get the job done safely and efficiently 
Do you have a downtown office that needs our services?  Or perhaps you are a property manager or on the strata council and haven't been happy with the previous cleaners?  Lets be honest, if something goes wrong its not us who get the initial feedback it's you isn't it.  (I know because I personally live in a condo and everytime we get our building serviced it can be a nightmare for our strata to make everyone happy) You know more than anyone that trying to keep everyone organized and happy is an around the clock job with often little appreciation or cooperation.  Our job is to make yours easier.  Specializing in residential window cleaning gives us an advantage when dealing with big strata townhouse projects or retirement homes and condos.  For the most part we know what people want.  We instill confidence in the little old lady who is stressed that we might miss one of her windows and sits around all day waiting for us to clean it.  Our professional uniforms and clean cut team never make anyone feel nervous or uneasy about us walking on their property.  One of our main company principles is integrity before profit, and with big projects quality can often be overlooked or "Swept under the rug" so to speak.  Not with us.  Our honest technicians will note any concerns with your property and send a report to the council after completing a job.  Were in this for the long term and constantly looking at ways to meet your needs better, help you stay on budget and keep everyone fed and looked after.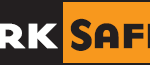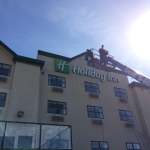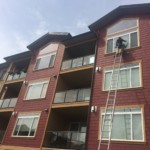 Regular Monthly or Weekly Storefront and Restaurant Window Cleaning
Automate Your Window Cleaning
Does your business or restaurant get a lot of foot traffic everyday?  Is it embarrassing when the sun comes out and hits the windows in that "Oh so not perfect light"?  As a manager or team member to a company you have a lot on your plate already and sometimes delegating the window cleaning to a lower paid employee can turn out to be a waste of resources and end up looking worse then it started.  Thats where we come in.  We automate your window cleaning for you.  We make it easy for you and for the price we charge we guarantee that it would take you at a minimum 5 times as long to get the same results.  Next Level Window Cleaning services a commercial route each month and some weekly and biweekly commercial accounts.  This service is fast and efficient and leaves your business to stand out with the added curb appeal.  We usually try to do this work early in the morning so that we don't disturb your clients from engaging with your business.  A regular maintenance program in the long run will not only save you money but make you money.  Keep your brand shining bright and have peace of mind knowing the job will now be automated.  Included with every monthly or weekly account is a complimentary frame wipe of all frames and doors on your business to leave it shining bright!
Post Construction Window Cleaning 
Patient, Positive, Easy to Work Around.  Everything You Want On Your Jobsite.
Need some positive people on your job site?  Tired of people blaming others for lack of follow through?  Getting everything done on time and in order is a lot easier said then done.  A lot of trades make promises to finish at a certain date but there are often many surprises that arise.  We realize that patience, communication, and good organization are traits that are necessary in the building space.  We know that not everything goes as planned and that sometimes the date can be pushed back or even moved forward sometimes.  Next Level Window Cleaning is willing to work with you in a patient and respectful manner to help you get all those projects taken care of.  We take ownership and complete responsibility of our work.  Post Construction window cleaning comes with the greatest risk and should be left to highly experience window cleaners only.  Stucco, concrete, sillicon, and paint overspray can make it tricky and also put you at a high risk for scratched glass if the cleaner doesn't know what he's doing.  We are very careful not to use razor blades on tempered glass.  Tempered glass (such as patio doors, railing glass) can be left with a fabricating debree on the glass at the time of its manufacturing.  Razor blades used on this type of glass can break off the fabricating debree under the blade and cause scratches to the glass.  Knowing this, Next Level Window Cleaning works with concrete dissolvers and special products that can remove the construction debris from the windows, "Blade free".  We work with many builders in Kelowna and do our best to provide them with the most prompt and professional service.  In fact we have such good relationships with our builders that rarely do any of them even ask us for a quote anymore as they are confident we will take the best care of them for a fair rate.  
Have a Question?  Call Us! 250.826.4843